Who doesn't love a hot bowl of quick and easy instant ramen in the cold of winter?
It's also super easy to add in extra toppings, like scallions, frozen veggies and seaweed to make your noodles more nutritious and delicious. Even though most instant ramen may appear to have no meat, many brands actually contain chicken or beef byproducts. This is particularly true for the seasoning packet.
We compiled a list of some of the best vegan instant ramen to stock up on – factoring in taste, price, ingredients and nutritional value. Also, each noodle on this list comes with specific recommended spices and ingredients to best mix-in. For more protein, here's a list of complete vegan proteins to complement your instant ramen.
1. Lotus Foods Vegan Rice Ramen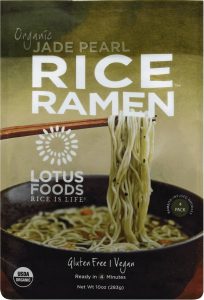 Lotus Foods organic, vegan rice ramen is super simple in the best way. The package contains only organic rice noodles – no seasoning and has just three ingredients. Ready in 4 minutes, this vegan ramen has bamboo infused into rice flour and has a faint woody flavor. Each package comes with 4 bundles of noodles.
Ramen Additions
For a quick and easy seasoning, we like soy sauce and sesame oil topped with scallions. Also, adding some seaweed can also impart an umami flavor. For a heartier meal, bamboo, bok choy and fried tofu are great friends. Here are some additional recipes from their site.
Nutrition
For a simple vegan ramen, Lotus Foods rice ramen does have some decent nutrition. This includes 120 Calories, 3g of protein and a little bit of iron and potassium per serving.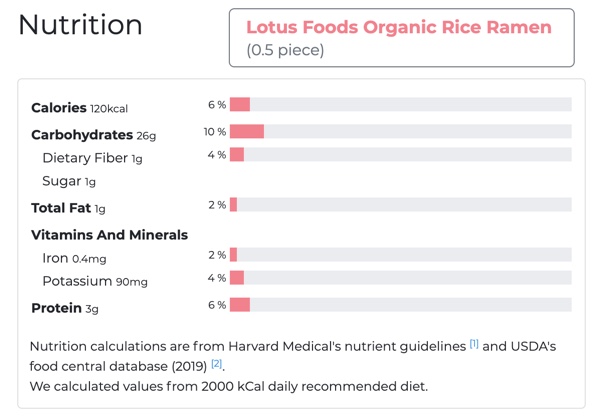 Quick Facts
Serving size: 35g (half a bundle)
Number of servings: 8
Ingredients: organic brown rice flour, organic white rice flour, bamboo extract.
UPC: 708953602028
2. Koyo Vegan Lemongrass Ginger Instant Ramen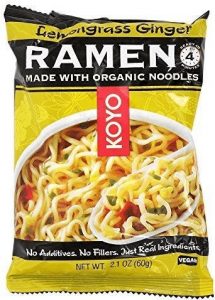 Koyo makes a couple of vegan ramens (lemongrass ginger, garlic pepper and mushroom). We like the lemongrass ginger as it has a light and fresh herbal flavor, which goes well with added veggies. In addition, Koyo also has one of the simplest ingredient lists. In particular, the seasoning packet only has a few ingredients and no preservatives.
Ramen Additions
Koyo lemongrass ginger comes a bit mild, so adding a little extra sea salt or soy sauce help enhance the flavor. Also, adding some cilantro, scallions, boy choy is quite tasty. For extra protein, top with a couple slices of tofu.
Nutrition
Koyo's lemongrass ginger ramen comes with 210 Calories, 8 grams of protein, and some iron and potassium.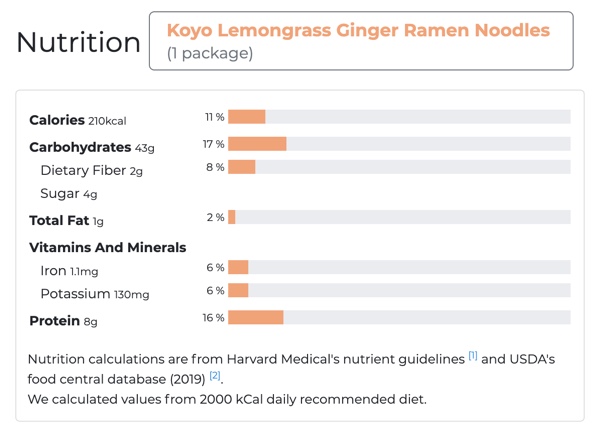 Quick Facts
Serving size: 60g (1 package)
Number of servings: 1
Ingredients: organic heirloom wheat flour, sea slat. soup packet: natural sea salt, Chinese mushroom powder, vegetable powders (onion, garlic), natural cane sugar, chili pepper, ginger, black pepper, lemongrass, green onion powder.
UPC: 813551002122
3. Annie Chun's Vegan Yakisoba Noodle Bowl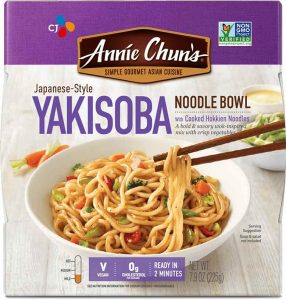 Annie Chun's makes a handful of vegan noodle bowls. While we do like the small bits of vegetables, the list of ingredients is quite long, without much additional nutrition. However, Annie Chun's yakisoba is tasty and can be made soupy or more dry.
Although the ingredients list lactic acid and xanthan gum, it is verified vegan by their manufacturer. The other vegan Annie Chun's noodle bowls include: soy garlic, teriyaki, pad thai, peanut sesame, sweet chili, and kung pao.
Noodle Additions
The ability to prepare the bowl in different ways is pretty nifty. For example, adding chopped carrots and peas into the dry style is tasty and super nutritious. For the soupier version, adding seaweed, scallions and chili sauce is great for warming up those colder months.
Nutrition
Annie Chun's yakisoba noodle bowl has the most protein of our list, at 15 grams per serving. It also has a nice amount of dietary fiber, and a little potassium, iron and calcium.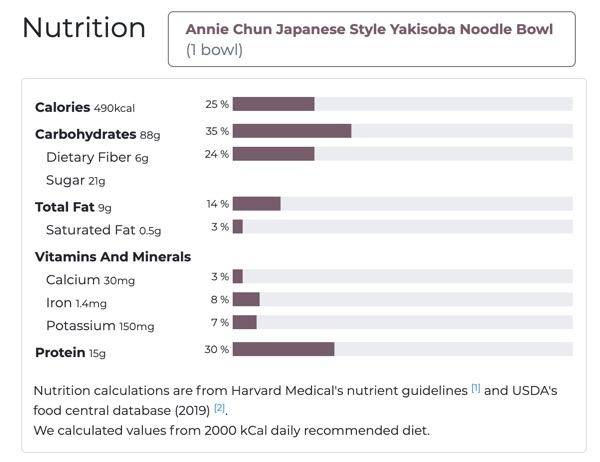 Quick Facts
Serving size: 225g (1 bowl)
Number of servings: 1
Ingredients: noodles: water, wheat flour, modified tapioca starch, salt, wheat gluten, lactic acid. sauce: dextrose, water, vegetable soup base (vegetables [carrots, celery, onion], salt, organic cane sugar, organic tapioca maltodextrin, yeast extract, organic onion powder, organic corn starch, organic garlic powder, organic turmeric, natural flavor), expeller pressed canola oil, sesame oil, soy sauce (water, soybeans, wheat, salt, alcohol), minced garlic, cane sugar, seasoning blend (onion, yeast extract, garlic), yeast extract, corn starch, garlic powder, organic molasses, natural flavors, rice vinegar, salt, spices, xanthan gum. toppings: dehydrated carrot, dehydrated cabbage, dehydrated green pepper, dehydrated spinach, dehydrated red chili pepper, dehydrated green onions.
UPC: 765667110911
4. Mike's Mighty Good Vegetable Ramen Soup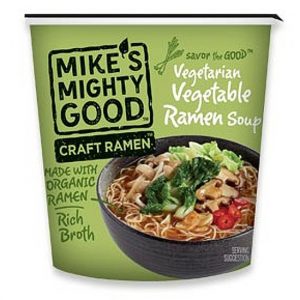 Mike's Mighty Good vegetable instant ramen is labeled as vegetarian, but is actually vegan and organic. We like the short list of organic ingredients and the broth. The kombu (seaweed) as well as the yeast extracts impart extra umami into the rich broth.
Ramen Additions
Adding some scallions, cilantro and mushroom balances out the flavor as well as adding extra nutrition. We love Maitake mushroom for the Vitamin D.
Nutrition
Mike's Mighty Good vegetable ramen has 200 Calories, 8 grams of protein, some potassium and a little bit of iron and calcium per serving.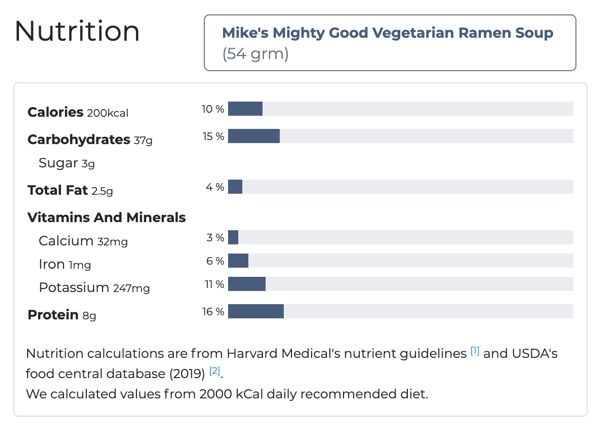 Quick Facts
Serving size: 54g (1 bowl)
Number of servings: 1
Ingredients: organic ramen (organic wheat flour, organic potato starch, sea salt), vegetables* (cabbage, chili pepper, garlic, mushroom, kombu seaweed, onion), natural flavors, yeast extracts, organic oils (organic sunflower oil, organic sesame oil), organic potato starch, miso (soybeans, rice)*, organic cane sugar, sesame flour, pea protein.
UPC: 081567702163
5. Dr. McDougall's Vegan Miso Ramen Soup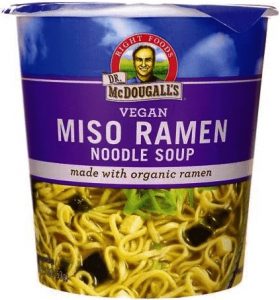 Dr. McDougall's also makes a few flavors of vegan noodle soup (spring onion, pad thai and miso). The miso flavor is the perfect base to add additional toppings. This ramen also has an organic short list of ingredients and we love that the paper cups are made from certified sustainable forests.
Ramen Additions
Adding seaweed, corn and peas enhance the nutrition while some ginger or cayenne can give the bowl a flavor boost.
Nutrition
Nutritionally, Dr. McDougall's miso ramen soup is comparatively weaker, with 5 grams of protein and 100 Calories per serving.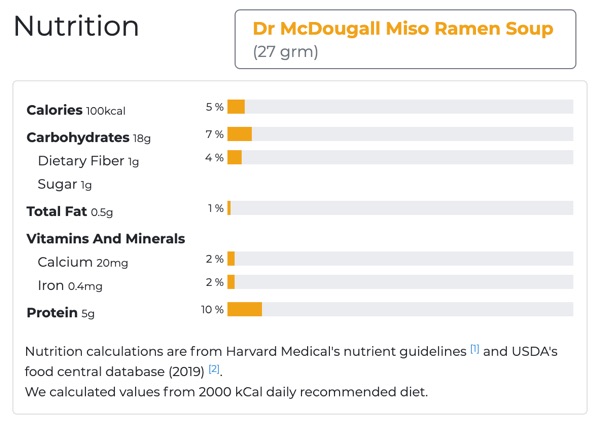 Quick Facts
Serving size: 27g (1 bowl)
Number of servings: 1
Ingredients: organic noodles (organic wheat flour, brine, salt), miso powder (soybeans, rice, salt), soy protein, yeast extract, vegetables* (green & white onion, garlic, wakame seaweed, shiitake mushroom), natural flavor, organic cane sugar, tofu* (soybeans), spices.
6. Nissin Very Veggie Soy Instant Ramen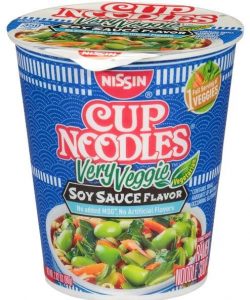 Nissin, the Toyota of instant noodles, also has a couple of vegan options. One is the very veggie cup noodles, soy sauce flavor. We are big fans of the small chunks of carrots, bok choy and edamame. This vegan cup of noodle was also featured here.
Unfortunately, we're not super keen on the long list of ingredients with a couple of additives. However, Nissin's very veggie is nutritionally one of the better choices for instant ramen.
Ramen Additions
Adding some extra seasoning, like cayenne pepper and crushed garlic, gives this noodle bowl a flavor boost.
Nutrition
Nissin very veggie soy ramen soup has 350 Calories, 9 grams of protein, and a healthy amount of potassium and iron. It's also got the most calcium of our list of ramen, at 70mg or roughly 7% of your daily values.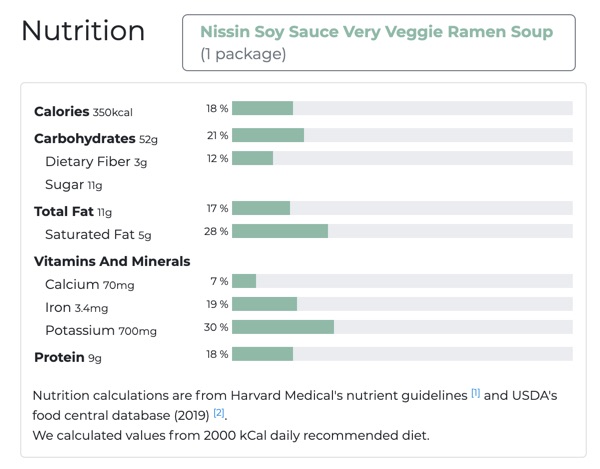 Quick Facts
Serving size: 27g (1 package)
Number of servings: 1
Ingredients: enriched flour (wheat flour, niacin, reduced iron, thiamine mononitrate, riboflavin, folic acid), vegetable oil (palm oil, rice bran oil), dried carrot strip, dried bok choy, dried edamame, glucose, dehydrated soy sauce, (maltodextrin, soybean, salt, wheat, sugar), salt, contains less than 2% of caramel color, citric acid, disodium guanylate, disodium inosinate, disodium succinate, dried leek flake, garlic powder, hydrolyzed corn and soy protein, maltodextrin, natural flavor, onion powder, potassium carbonate, potassium chloride, sodium alginate, sodium carbonate, sodium tripolyphosphate, spice, succinic acid, tbhq (preservative).
UPC: 070662401040
Simple and Cheap: Thai Kitchen Rice Noodles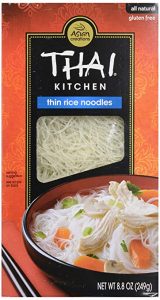 We wanted to find the simplest instant noodle possible, also at an affordable price. Hence, we added an extra item on our list of vegan noodles – Thai Kitchen rice noodles. Thai Kitchen offers two versions, one for stir fry which is thicker, and these vermicelli rice noodles which are thinner.
Thai Kitchen's rice noodles only contains two things: rice and water. Awesome.
Noodle Additions
After cooking the noodles in hot water, adding equal amounts of soy sauce, sesame oil and chili sauce makes a quick and tasty soup. In addition, scallions, crushed peanuts, cilantro are also great friends.
Nutrition
Nutritionally, Thai Kitchen's rice noodles has 200 Calories and 4 grams of protein per serving.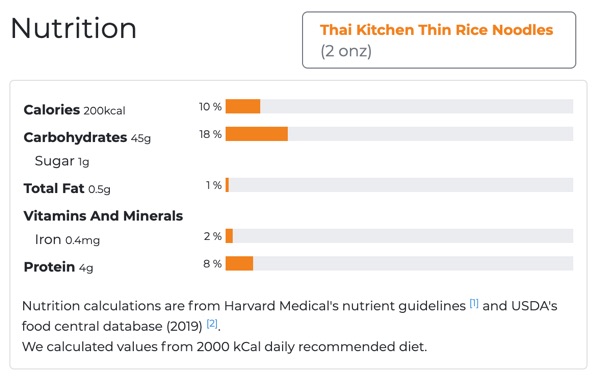 Quick Facts
Serving size: 56g
Number of servings: 1
Ingredients: rice, water
UPC: 737628025305